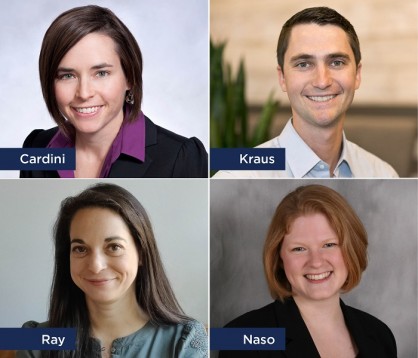 WJE is pleased to announce four new members of our management team.
Associate Principal Emma Cardini has been named unit manager of WJE's Boston office. Ms. Cardini is a structural engineer with nearly two decades of experience in masonry facade assessments and repairs. She also leads field investigations and condition surveys to investigate deterioration, leakage, and structural problems in existing building enclosure systems. She is a member of our Difficult Access Team.
Senior Associate Robert Kraus has been named a unit manager of WJE's San Francisco office, co-managing with Principal Ann Coleman. Mr. Kraus is a structural engineer focused on the investigation, analysis, and strengthening of structures ranging from historic buildings to modern, high-rise construction in varying stages of distress or failure. He is the chair of the Structural Engineers Association of Northern California Existing Buildings Committee.
Associate Principal Rita Ray has been named unit manager of WJE's Raleigh office. Ms. Ray is a professional engineer with expertise in design and construction phase enclosure consulting for new construction, enclosure failure investigation, and repair design for existing multifamily construction. Ms. Ray has led the effort to develop project work and client relationships in the Raleigh area since 2010.
Associate Principal Tracy Naso has been named a unit manager of WJE's Chicago office, co-managing with Principal Jon Lewis. Ms. Naso is a structural engineer with extensive experience investigating, repairing, and protecting reinforced concrete systems, including conventional, post-tensioned, prestressed, and antiquated systems. She also investigates failures and collapse due to storms, fire, extreme events, and structural deficiency.
In addition to their many technical accomplishments, each new manager has contributed substantially to WJE's culture of collaboration, knowledge sharing, and mentoring over the years. We wish them success in their new roles.