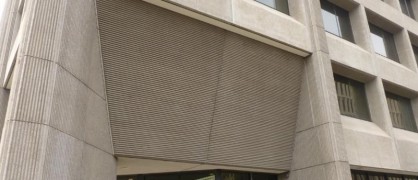 Low rise foam adhesive ribbons have been used to bond layers of polyisocyanurate roofing insulation for three decades, yet little research had been conducted to test the optimal spacing of the ribbons. Manufacturers recommend laying the adhesive in 12-inch intervals, but greater variation in ribbon spacing is common because precise measurements during installation are often impractical, requiring more time and more labor. Citing manufacturers' recommendations, building inspectors have been known to fail roofs installed with variable ribbon spacing, particularly spacing that exceeds the 12-inch recommendation.
In 2019, the Midwest Roofing Contractors Association engaged WJE to investigate the effects on bond capacity of variable low rise foam adhesive ribbon spacing, evaluating both polymer-coated fiberglass and cellulosic felt-faced insulation board specimens. The research aimed to determine what impact variation in foam ribbon spacing has on ultimate roof uplift capacity, if some variation in spacing is acceptable, and at what point adhesive failure occurs.
In this complimentary, one-hour webinar, WJE roofing experts Patrick Shaughnessy and Richard Koziol will provide an overview of the research and testing program; summarize the results, including installation factors found to have a greater impact on overall bond capacity; and discuss the impact of this research on the design, specification, and construction of roofs.
By the end of the presentation, you will be able to:
Summarize the testing methodology and results,
Explain the differences between various adhesive ribbon spacings for cellulosic felt-faced, polymer-coated, and glass-fiber-faced polyisocyanurate insulation,
Identify failure mechanisms of insulation facers with regard to wind uplift strengths, and
Describe installation techniques that can achieve optimal performance in roofing systems that are adhered using low rise foam adhesives.
There will be plenty of time for your questions during the presentation. You are also eligible for one American Institute of Architects (AIA) Learning Unit for your participation.
DETAILS
Findings of Low Rise Foam Adhesive Testing Program
Thursday, June 24, 2021
12:00 PM - 1:00 PM CDT