NEWS | April 6, 2022
Webinar Recording: Instrumentation and Monitoring of Adjacent Structures during Construction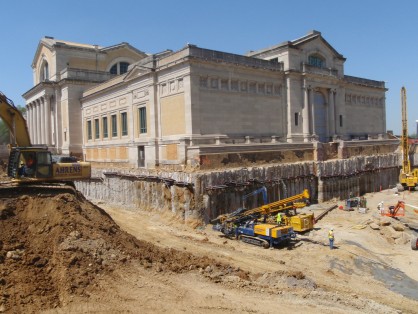 A recording of this webinar is now available.

The protection of adjacent structures and utilities is important to consider during planning and execution of most demolition, excavation, and construction projects. Increasingly, specifications and special provisions for instrumentation and monitoring of adjacent properties are being added to state and municipal projects and are being proactively adopted by developers and contractors to protect the interests of all parties.
In this webinar, WJE engineers Stephen Garrett and Nate Rende explain when, why, and how to conduct detailed condition documentation surveys of adjacent properties, define appropriate limits for movement and vibration prior to construction, identify vulnerabilities to static and dynamic movement, develop and implement suitable monitoring plans, and appropriately respond to measured movements. Representative case studies from recent WJE projects will illustrate various approaches to the protection of adjacent properties.
By the end of the webinar, you will be able to:
Summarize the process of preconstruction condition assessments and documentation of adjacent properties
Describe the development of monitoring plans to aid in the protection of adjacent properties
Analyze various monitoring methods and equipment, including measurement of vibration, subsurface soil movement, displacement, and tilt
Discuss requirements for instrumentation and monitoring of structures and utilities that are commonly seen in state and municipal project specifications