NEWS | February 22, 2022
Webinar Recording -- Mass Concrete: Does My Project Need a Thermal Control Plan?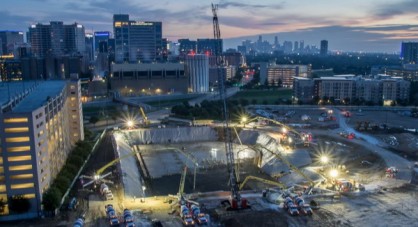 A recording of this webinar is now available.
When concrete is mixed, a chemical reaction occurs between the cement and water that generates heat. This is known as heat of hydration. For large concrete elements designated as mass concrete, a substantial amount of heat can be generated. The American Concrete Institute, however, does not specifically define the size limits of mass concrete. As a result, the specifier for the project is responsible for determining what constitutes "mass concrete."
In this webinar, WJE engineers Jacob Borgerson and Elizabeth Wagner discuss factors that contribute to heat generation and concerns associated with mass concrete (e.g., thermal cracking, delayed ettringite formation). This presentation will benefit engineers, architects, testing laboratories, contractors, ready-mix suppliers, owners, and anyone who has wondered if their project needed a thermal control plan.
By the end of the webinar, you will be able to:
List factors that contribute to heat generation in mass concrete,
Identify risks associated with high temperatures in concrete,
Summarize key components of a thermal control plan, and
Describe various methods for controlling temperature rise and temperature differentials in mass concrete.