NEWS | July 28, 2022
Webinar Recording: Advancements in Facility Asset Management for a Data-Driven World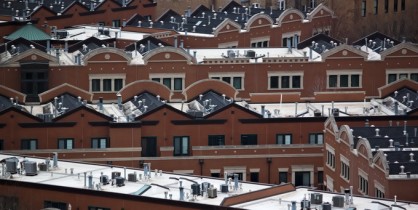 A recording of this webinar is now available.
Institutional organizations and other owners with large property portfolios are increasingly seeking a technically sound and consistent approach to plan for and prioritize building enclosure and structural maintenance needs amongst their other operational objectives. While not new to WJE or the industry, systematic multifacility condition assessments are growing in popularity in part due to advancements in technology that allow owners and property managers to process and interpret facility condition data more efficiently and in real time to integrate those findings into their broader asset management decisions.
In this webinar, WJE architect Erik Murray and WJE engineers Kurt Holloway and Sarah Rush discuss how new technologies and methodologies are being used to integrate facility condition data into large asset management projects and improve decision making. The presenters share examples of how owners have coupled digital field data collection and project-specific assessment tools with cloud-based database software to gain greater perspective on the assessment data.
By the end of the webinar, you will be able to:
Explain the importance of periodic and systematic condition assessments of building enclosure and structural systems
List the benefits of several available data-driven facility asset management tools
Recognize and overcome challenges to the successful implementation of data-driven approaches
Describe possible output and analytics that data-driven asset management tools can generate that help prioritize timely facility maintenance and capital improvement projects