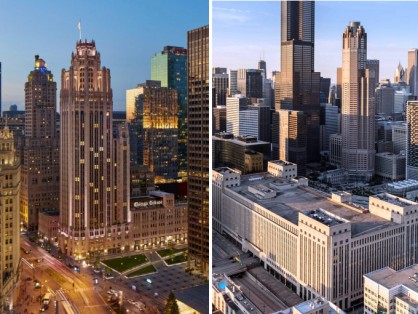 Landmarks Illinois has awarded the Old Chicago Post Office (right) and the Tribune Tower (left) with 2023 Richard H. Driehaus Foundation Preservation Awards in the Adaptive Use category. These awards honor individuals, organizations, projects, and programs whose work demonstrates a commitment to historic preservation.
The adaptive reuse project for the Tribune Tower converted the historic tower and its original printing plant, radio, and television buildings into a broad range of residences. We provided building enclosure consulting services for the building's renovation.
WJE led the facade rehabilitation efforts for the Old Chicago Post Office, and our scope expanded to include roof replacement, window restoration and replacement, historic preservation consulting, structural evaluation at the train track level, facade access anchorage design, and fire protection consulting. We mobilized a large, dedicated team of professionals to assist with the rehabilitation and adaptive reuse of this landmark structure, which is the largest adaptive reuse project in the U.S.