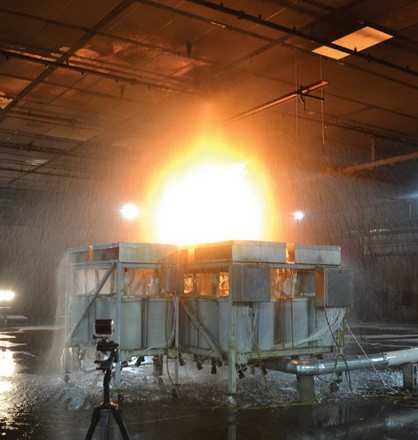 Early suppression fast response sprinkler (ESFR) technology was introduced in the late 1980s and was touted as the replacement for in-rack sprinklers. The large orifice size and quick response thermal link are capable of delivering a previously unmatched quantity of water flux to an aggressive storage fire.
ESFR sprinkler performance came with a price. The early sprinkler design and installation standards published by the National Fire Protection Association (NFPA) contained very rigorous obstruction requirements for their installation.
In 2006, the National Fire Protection Research Foundation commissioned a multiyear research project to sort the ESFR sprinkler obstruction issue. The goal of this project was to validate the current rules for ESFR sprinkler obstructions, and if appropriate, provide data to the NFPA 13 code development committee to submit code changes to align ESFR sprinkler obstruction rules based upon scientific data.
Join WJE fire protection engineer Garner Palenske (San Diego) as he discusses the unique and innovative use of the actual delivered density apparatus as a scoping tool for full-scale testing, which provided a methodology to identify trends and identify scenarios that may pass or fail the selected performance criteria. The findings of this multiyear research project are also shared.
This article originally appeared in the October 2021 issue of Plumbing Engineer. Learn more at phcppros.com.