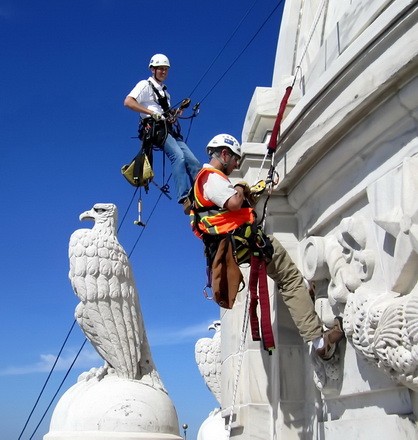 On November 17, 2016, OSHA issued a final rule updating the fall protection requirements of the General Industry Rules 29 CFR 1910, known as Subpart D, Walking-Working Surfaces. OSHA's General Industry Rules apply to maintenance work performed on or in existing structures and facilities. The new rules cover a wide array of conditions and hazards.
Notably, effective January 17, 2017, the use of rope descent systems for maintenance activities is now restricted to locations no higher than 300 feet above ground level unless it is not feasible to access such heights by any other means or if those means pose a greater hazard than rope descent.
This WJE Advisory shares the advantages and disadvantages of using rope access techniques to access the facades of buildings based upon our project experience in this area as well as discussions with building owners and contractors.