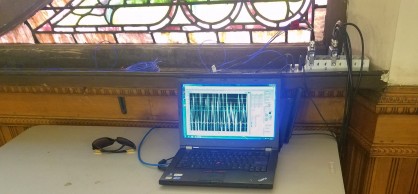 Buildings make noises. Some are merely annoying. Some are disturbing. It can be difficult to identify the source of disturbing noises and even more difficult to fix them. What do these noises sound like and what causes them? Can we anticipate when and where they will occur and design ways to avoid them?

In this one-hour webinar, WJE engineer Jarkko Simonen and WJE architect Sylvan Cambier will explore the noises buildings make and what causes them. They will explain WJE's methodology for finding the sources of noise and for diagnosing the causes. The presentation will look at various cladding, glazing, and structural systems and will feature project examples of building noise investigations and repairs.
By the end of the presentation, you will be able to:
Explain why buildings make noises,
Describe the difference between perceptible noises and disturbing noises,
Predict what conditions may lead to disturbing noises, and
Identify what tools are available to solve noise problems.
There will be plenty of time for your questions during the presentation. You are also eligible for one American Institute of Architects (AIA) Learning Unit for your participation.
DETAILS
What's That Sound? Building Noises and How to Stop Them
Thursday, April 22, 2021
12:00 p.m. - 1:00 p.m. CT