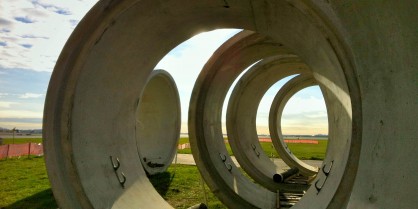 A recording of this webinar is now available.
Concrete is humankind's most commonly used material after water, with roughly 2 cubic yards of concrete produced each year for every person on the planet. It is literally the building block of civilization, yet this intensive use comes with a cost: 5–7 percent of annual greenhouse gas emissions are associated with concrete production. As a result, considerable efforts are underway to reduce the carbon footprint of concrete by both reducing the amount of portland cement clinker in cement and the amount of cement in concrete. Although effective in lowering the carbon footprint of concrete, these actions can pose challenges during construction and while in service.
In this webinar, WJE materials engineers Kate Hawkins and Tom Van Dam discuss methods to reduce the carbon footprint of concrete using currently available and emerging technologies, the use of environmental product declarations to benchmark and assess improvements, and strategies to identify and mitigate potential challenges posed by the use of lower carbon concrete.
By the end of the webinar, you will be able to:
Describe the main sources of greenhouse gas emissions in the production of concrete
Summarize technologies to reduce the portland cement content in binder and strategies to reduce the cementitious binder content in concrete
Explain how the carbon footprint of concrete is verified through an environmental product declaration
Explore challenges using low carbon concrete mixes in construction and while in service