NEWS | May 26, 2022
Webinar Recording: Maintaining Your Light Pole Inventory for Longer Service Life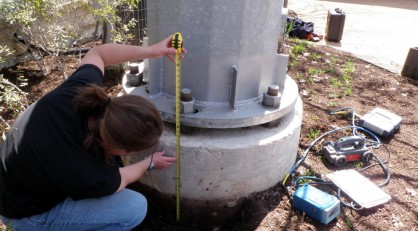 A recording of this webinar is now available.
Light poles are nearly universal structures that line our streetways, sidewalks, parking lots, athletic fields, and more. Maintenance efforts are commonly focused on the luminaires that light paths for pedestrian or vehicular traffic, overlooking maintenance of the poles and anchorage systems supporting them. Only when failures occur are the poles recognized as valuable and critical assets that need to be reviewed and maintained. Deterioration can progress in the absence of regular and thorough maintenance, presenting the risk of damage to property and/or injury to passersby.
In this complimentary, one-hour webinar, WJE engineers Noah Fehrenbacher and Leah Ruther discuss the general components of light poles, common failure mechanisms, tips on how to extend the service life of light poles, when replacement is recommended, and design considerations for new or replacement poles. The webinar features real-world examples of deterioration and failures of light poles that have occurred due to poorly planned maintenance and deferred repairs. The presenters offer tips on how to avoid similar conditions.
By the end of the webinar, you will be able to:
Describe the general components of a light pole
Explain common failure mechanisms of those general components
Summarize light pole maintenance recommendations
Identify when pole replacement is warranted and understand design considerations for replacement/new poles