NEWS | March 7, 2019
Roofing Restoration for Hispanic Society of America Receives Preservation Award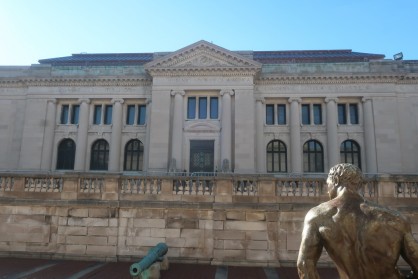 Replacement of the original copper roof on the Main Building of The Hispanic Society of America has been recognized with The New York Landmarks Conservancy's Lucy G. Moses Preservation Award. Located on Broadway in New York City, the Main Building of the Hispanic Society is constructed in the Beaux-Arts style and first opened to the public in 1908.
WJE acted as the construction administration consultant for the roof replacement project, which began in 2017. The restoration work was designed to protect the building interior and exterior from further deterioration, respect the original design, and preserve the integrity of this New York City and National Historic Landmark building. The new roof recreated the rich and exuberant design with a few modern improvements, such as insulation, vapor-permeable membranes, and even an automated electronic snow melt and drain pipe heat trace system.
Named in honor of dedicated New Yorker Lucy G. Moses, the Moses Awards are The New York Landmarks Conservancy's highest honors for outstanding preservation work. The preservation awards are given to projects that demonstrate excellence in the restoration, preservation, or adaptive reuse of historic buildings, streetscapes, and landscapes in New York City.