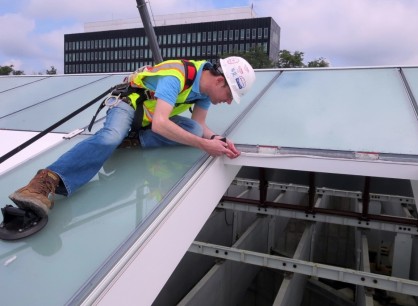 View a recording of WJE's recent webinar, Parking Structure Maintenance: Get Ahead of Deterioration.
Parking structures are prone to deterioration and expensive repair projects due to severe environmental exposure. Regular maintenance is key to minimizing deterioration, damage, and distress. Establishing effective budgets to minimize deterioration can be daunting. How much should you budget for repairs? Which repairs can wait and which repairs should not? Which conditions take precedence and how much will repairs cost? Is your parking structure even worth repairing?

In this one-hour, complimentary webinar, WJE engineers James Donnelly, Tracy Naso, and Andrew Lobbestael discuss common causes of parking structure deterioration, implications of recent research into typical deterioration, expected parking structure maintenance costs, and how to extend the service life of your parking structures. The presentation features case studies that demonstrate what adequate repairs and maintenance can do as compared to unwisely deferred repairs.
By the end of the presentation, you will be able to:
Identify common causes of parking structure deterioration
Explain the implications of recent research into typical deterioration
Understand the costs and importance of maintaining parking structures
Budget more effectively for maintenance and repairs