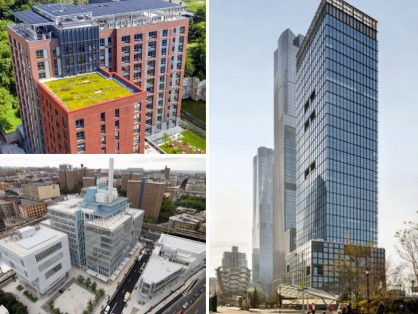 Three projects managed out of our New York office have won New York Urban Land Institute's (ULI) Excellence in Development Awards. These awards honor outstanding development projects in the private, public, and nonprofit sectors across New York state that best exemplify ULI's commitment to shaping the future of the built environment for transformative impact in communities worldwide.
The Peninsula in the Bronx (upper left) won in the Affordable Housing Development category. We served as the building envelope consultant for this mixed-use development and light industrial building. The development is now home to affordable residential housing as well as small start-up and growing manufacturing businesses.
55 Hudson Yards in Manhattan won in the Excellence in Office Development category. We provided subgrade waterproofing consulting services for this 1.3-million-square-foot, LEED-Gold-designed office building.
Columbia University Manhattanville Campus (lower left) Public Realm (Phases 1 and 2) won in the Urban Open Space category. We served as the roofing and waterproofing consultant for this seventeen-acre, modern urban academic and mixed-use development.