NEWS | September 18, 2019
Webinar Recording: Protecting Your Glass Assets -- How to Approach Damage and Breakage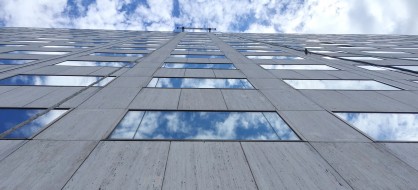 View a recording of WJE's recent webinar, Protecting Your Glass Assets: How to Approach Damage and Breakage.
As a result of normal facade maintenance and cleaning operations, construction activities, high winds, facade restoration work, material contamination, and other unusual events, windows on exterior building envelopes may be "damaged" or broken. With the increased use of highly sophisticated glass products that cater to aesthetic and energy-saving demands, replacement can be a costly proposition. Repair options, validated by mock-ups and structural analyses, are cost-effective alternatives to glass replacement for many situations. In other cases, full glass replacement is required and an in-depth investigation may be performed to determine the cause of distress.

In this one-hour webinar, WJE glass expert Mark Schmidt and Michigan Tech Assistant Professor and glass researcher Dr. Stephen Morse discuss a variety of glass conditions, some of which require repair or replacement. Relevant case studies illustrate the efficacy of repair versus replacement for various conditions. The presenters also discuss the timely topic of tempered glass breakage and heat soak testing.
By the end of the presentation, you will be able to:
Describe common causes of glass "damage"
Distinguish between undesirable glass conditions and industry standard damage
Compare the benefits of repairing versus replacing costly custom windows
Identify the causes of spontaneous glass breakage and related fabrication mitigation techniques