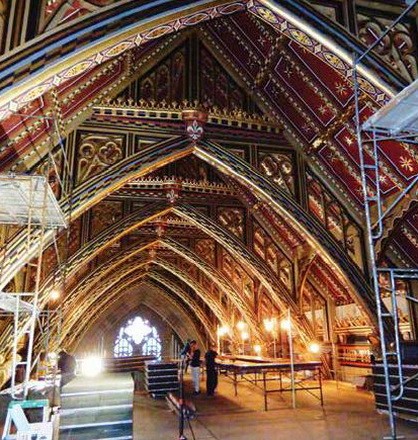 On occasion, even systems within buildings of the recent past require a second chance at serviceability. Constructed in the 1950s, the Queen of All Saints Basilica – a significant structure for the Archdiocese of Chicago – and built at a scale and level of ornamentation of some of the more spectacular churches within the United States, provides an illustration. Common of structures in this era, its construction included a combination of structural systems with timber-trussed roofs carried by load-bearing masonry and interior steel columns, all supported on cast-in-place concrete foundations. The basilica follows the traditional gothic style with a cathedral ceiling comprised of steeply pitched slate roofs (14:12) over the altar, nave, and choir loft. It became apparent that ceiling-material substitutions in the original construction (12-inch-square acoustical tile for plaster) tested serviceability limits, and displaced ceiling tiles motivated the parish to seek remediation approaches. Repair approaches sought by the parish necessitated ceiling tile replacement that would provide a more dimensionally stable system while maintaining the aesthetics of the existing ceiling system.
Read on to learn how architectural engineers Timothy Crowe and Elizabeth Pugh restored the church's ceiling, enabling disassembly of the scaffolding and tuning of the organ, allowing the full grandeur of the space to be realized once again.
This article was originally published in the Winter 2018 issue of Licensed Architect magazine, the official publication of the Association of Licensed Architects.