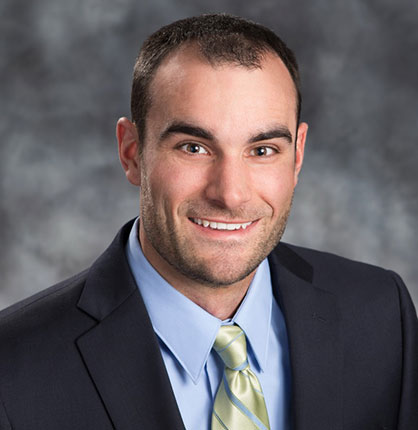 Experience
Terry McGovern has participated in the investigation and rehabilitation of multiple concrete, steel, and wood structures. Many of these projects have included in-depth analysis, repair and rehabilitation design, production of construction documents, and observation services during construction.
Mr. McGovern's focus is in existing structures, with an emphasis on concrete structures. He has participated and led the evaluation of many cast-in-place, precast, prestressed, and post-tensioned concrete structures. These evaluations have included assessments of structures to evaluate current levels of distress and develop short- and long-term maintenance and repair plans.
In addition, Mr. McGovern has evaluated numerous concrete and coating material failures to identify the causes of the failures and provide recommendations for repair.
REPRESENTATIVE PROJECTS
Coatings
Aircraft Hangar - Loveland, CO: Evaluation of coating failure at slab-on-ground
Thule Building - Boulder, CO: Assessment of floor coating and repair recommendations
Millennium Bridge - Denver, CO: Review of traffic coating on pedestrian bridge
Empower Field at Mile High - Denver, CO: Design of new and repair coating systems for existing steel elements
Private Horse Arena - Parker, CO: Evaluation and development of repair options for coating on structural steel framing
Concrete Structures
Drinking Water Storage Tanks - Englewood, CO: Condition assessment of two three-million-gallon concrete water tanks
1801 California - Denver, CO: Evaluation and repair design of precast concrete parking structure
1125 Seventeenth Street - Denver, CO: Assessment and repair design of cast-in-place concrete parking structure
700 Broadway - Denver, CO: Condition Assessment, repair design, and construction observation for post-tensioned concrete parking structure
Tremont Parking Structure - Denver, CO: Long-term maintenance and repair planning for precast concrete
Park Central Parking Structure - Denver, CO: Assessment and repair design for post-tensioned concrete
Willow Creek Dam - Harrison, MT: Condition assessment, material evaluation, and repair recommendations for concrete spillway
The Arboretum - Denver, CO: Assessment and repair design for cast-in-place concrete exterior columns and spandrel beams
Structural Analysis
1660 Lincoln - Denver, CO: Evaluation of precast concrete floor for file storage loads
5613 DTC Parkway- Englewood, CO: Evaluation and repair design for deteriorated foundation wall elements and analysis of composite steel framing for isolated concentrated loads
Hampden East Condominium Association - Denver, CO: Investigation and evaluation of precast concrete double-tee elements to support additional roof loading
Ft. Leavenworth - Leavenworth, KS: Evaluation, review, and design of shoring for remodel of historic structure
Commons Park West - Denver, CO: Evaluation and analysis of post-tensioned concrete parking structure due to beam and column cracking
Failure/Damage Investigations
Erie Middle School - Erie, CO: Structural evaluation of school after a natural gas explosion
Southlands Shopping Center - Aurora, CO: Tornado damage investigation of roof deck and supporting steel joists
Denver, CO: Evaluation and retrofit design for deficient precast concrete wall and column joints
Denver, CO: Slab-on-ground distress review and recommendations for revised practices and specifications
Denver, CO: Investigation of precast concrete stair collapse; assistance in load testing revised stair design
Professional Affiliations
American Concrete Institute (ACI)
International Concrete Repair Institute (ICRI) - Rocky Mountain Chapter Executive Board of Directors
Structural Engineers Association of Colorado (SEAC)
Registrations
Professional Engineer in CO
Education
University of Michigan
Bachelor of Science, Engineering, Civil Engineering, 2008
Master of Science, Engineering, Civil Engineering, 2009