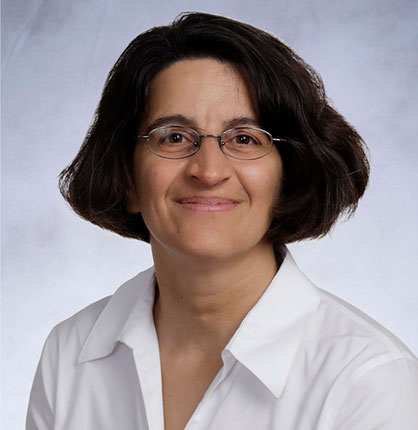 Experience
Maria Mulligan joined the Boston office in 2017 and brings more than twenty-five years of dedicated experience in building enclosure design as a project architect. As a registered architect, Ms. Mulligan has extensive experience focusing on specifying, designing, and preparing construction documents for building enclosures. Her expertise includes design of curtain wall fenestration systems, metal panel cladding, masonry cladding, roofing, and waterproofing systems.
Ms. Mulligan's practice includes building enclosure design for institutional clients in the healthcare and educational sectors. Her work in the healthcare sector includes the design of complex unitized curtainwall enclosures for high-rise and multilevel buildings. In this capacity, she managed project teams through design and construction of complex building enclosures for large scale healthcare projects. Ms. Mulligan's work focuses on collaboration with construction managers, enclosure consultants, and glazing subcontractors in design-assist contracts to design and document custom unitized curtain wall components. Her projects typically include construction administration observation services to verify that systems have been constructed as designed.
Ms. Mulligan is an active member of the Boston Society of Architects-Building Enclosure Council, where she maintains an active network of architects, engineers, contractors, and manufacturers involved in technical aspects of building enclosure design and construction. As a past co-chair of the Council, her duties included organizing speakers and educational programs for monthly meetings.
REPRESENTATIVE PROJECTS
Building Enclosure Consulting/Peer Review
4000 Wisconsin Avenue - Washington, D.C.: Design peer review of multifamily wood framed high-rise housing complex focused on constructability of opaque wall cladding systems, roofing, and fenestration
Building Enclosure Commissioning
Harvard Paulson School of Engineering and Applied Sciences - Allston, MA: Peer review of enclosure design focusing on interface of exterior roof/ wall systems, continuity of air, moisture, and thermal layers; design review of custom curtain wall fabricated oversees
Children's Hospital of Buffalo - NY: Project architect for the enclosure design of new high-rise hospital including custom united curtain wall with opaque and vision panels designed under a design-assist contract; oversight of lab testing and mock-ups to verify performance *
Children's Hospital of Detroit - MI: Project architect for the enclosure design of hospital addition with a custom silicone-glazed unitized curtain wall facade with sun shades designed under a design-assist contract; masonry cavity wall and metal panel rainscreen systems; oversight of lab testing and mock-ups to verify performance *
War Memorial Recreational Center - Cambridge, MA: Project architect for the enclosure renovation design of 1950's-era load-bearing masonry structure, including window replacement and repair of load-bearing masonry walls *
Windows and Curtain Walls
130 Bishop Allen Drive - Cambridge, MA: Window renovation design of a 1960 Modernist-style office building consisting of replacement of original single-pane windows with energy efficient custom aluminum-framed windows using heat mirror technology *
*Indicates with previous firm
Professional Affiliations
America Institute of Architects
Building Enclosure Council, Boston Society of Architects, past co-chair
Registrations
Architect in MA, ME, and RI
LEED Accredited Professional
National Council of Architectural Registration Boards Certificate
Education
Catholic University of America
Bachelor of Science, Architecture, 1990
Bachelor of Architecture, 1991