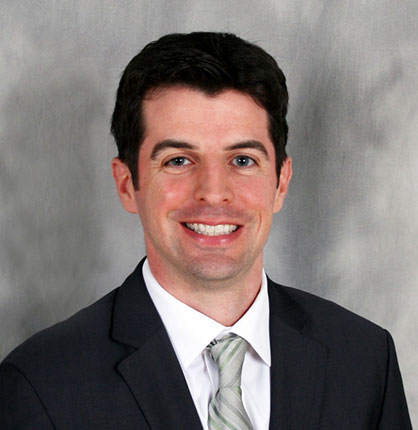 Experience
Since joining WJE in 2000, Brian Greve has participated in a wide variety of projects involving the investigation, analysis, and repair of existing buildings, bridges, foundations, and facades. He has investigated and repaired deteriorated reinforced concrete, post-tensioned concrete, steel, timber, and natural stone. Many of these projects have involved inspection, repair design, development of repair documents, and construction observation.
Mr. Greve also has experience in computer modeling, instrumentation, and load testing of structures. He has performed full-scale load tests of many structures to verify the capacity of a variety of deteriorated and strengthened members.
While attending the University of Illinois, Mr. Greve had internships with several engineering firms, including WJE. During these internships, he performed construction observation, surveying, material testing of soil, concrete and asphalt, and analysis and inspection of plate-connected wood trusses.
REPRESENTATIVE PROJECTS
Building Envelope Assessment
First National Bank Building - Chicago, IL: Investigation and repair design of granite facade
Marina Towers - Chicago, IL: Inspection and repair of landmark facade
150 N. Wacker Drive - Chicago, IL: Repairs of exposed reinforced concrete shear walls
Load Testing
Casino Parking Garage - Las Vegas, NV: Load testing of distressed double-tee beams
Perry's Victory and International Peace Memorial - Put-in-Bay, OH: Load testing of deteriorated, reinforced concrete plaza deck
Midway International Airport - Chicago, IL: Load testing of concrete floor slab after installation of FRP and external post-tensioning
Chicago Public Schools - Chicago, IL: Load testing of 1920s vintage reinforced concrete roof structures at five schools
Repair and Rehabilitation Design
Ochsner Hospital - New Orleans, LA: Structural rehabilitation of pile cap foundations
Chicago Public Schools - Chicago, IL: Investigation and repair design for heavy timber roof trusses and reinforced concrete framing
222 South Riverside Drive - Chicago, IL: Design and reconstruction of existing plaza structure
Grandin House - Cincinnati, OH: Repair of corrosion-damaged post-tensioned parking deck
U.S. Cellular Field - Chicago, IL: Capital repair projects
Structural Investigation
Louis Nettelhorst Elementary School - Chicago, IL: Failure investigation of heavy timber roof truss
Northwest Tollway - Chicago, IL: Investigation of deteriorated precast bridge columns
Navy Pier - Chicago, IL: Inspection of precast double tees following partial collapse of exhibition floor
Cedar Street Bridge over the Illinois River - Peoria, IL: Field inspection and corrosion evaluation of steel deck trusses
Professional Affiliations
American Society of Civil Engineers (ASCE)
Structural Engineers Association of Illinois (SEAOI)
Registrations
Professional Engineer in IL
Structural Engineer in IL
Education
University of Illinois, Urbana-Champaign
Bachelor of Science, Civil Engineering, 1998
Master of Science, Structural Engineering, 2000