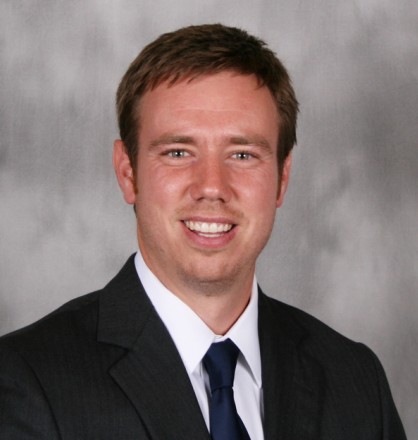 Experience
Bill O'Brien has contributed to numerous projects focusing on building enclosures, including facade assessments, building enclosure commissioning (BECx), water leakage and failure investigation, repair design, and architectural testing. These projects primarily involve glass curtain wall, various window assembly, metal panel, masonry wall, precast concrete, cast-in-place concrete, waterproofing, and roofing systems. Mr. O'Brien also has assisted with structural evaluation and testing of various building systems. Overall, his project experience ranges from single family residential to hospital, research, and high-rise type buildings.
Prior to joining WJE in 2012, Mr. O'Brien was part of the building sciences consulting group of Architectural Testing, Inc., at their York, Pennsylvania, headquarters. As a graduate research assistant at the Pennsylvania State University, his research was dedicated to advancing the understanding of the seismic performance of glass curtain wall and storefront systems. Mr. O'Brien performed laboratory dynamic racking tests on glass specimens to evaluate failure capacity. As a consultant for the Applied Technology Council (ATC), Mr. O'Brien developed analytical models to predict the seismic capacity of glazing systems as part of the developing Performance-Based Design method. His thesis included development of an equation to predict seismic glass failure considering glass material, panel configuration, and system type in addition to glass panel dimensions and clearance considered in code standards.
REPRESENTATIVE PROJECTS
Building Enclosure Consulting and Facade Assessment
111 West Wacker - Chicago, IL: Facade condition prepurchase survey, specification development for spandrel glass replacement with repair observations; investigation of interior condensation and noise for high-rise residential building with unitized curtain wall
353 North Clark - Chicago, IL: Investigation of decorative glass fins and facade access, repair guide development for tightening glass fin structural connections, and repair observations for high-rise commercial building with unitized curtain wall
Willis Tower - Chicago, IL: Facade assessment and city facade compliance report for 1,400-foot, 104-story building clad with aluminum and glass curtain wall
Children's Hospital of Wisconsin - Wauwatosa: Facade repair design drawings, submittal review, and water testing of partial building renovation and window replacement for hospital building with precast panel and masonry facade
Building Enclosure Commissioning
University of Iowa Children's Hospital and Pediatric Cardiac Catheterization Laboratory Expansion - Iowa City: BECx of custom unitized curtain wall and roofing systems, including peer review, construction observation, water and air testing, roof moisture survey, and BECx meetings
Merck Cell Culture Laboratory Facility - Kenilworth, NJ: Peer review assistance, construction observation, water and air leakage testing observation, and sealant warranty testing for unitized glass curtain wall and metal rain screen wall systems
University of Pennsylvania Translational Research Center - Philadelphia: Fabrication plant visits, construction observation, and water leakage testing of unitized curtain wall system
Facade Failure and Leakage
300 North LaSalle Street - Chicago, IL: Water leakage testing and repair observation for high-rise with unitized curtain wall
401 East Ontario - Chicago, IL: Water leakage testing and repair design for residential tower with cast-in-place and precast concrete panels
McGuire Air Force Base - Wrightstown, NJ: Water leakage investigation and repair design for masonry cavity wall flashing.
Manhattanville Bus Depot - New York, NY: Facade survey and dissection as part of masonry distress investigation
Professional Affiliations
RCI, Inc.
Registrations
Professional Engineer in IL and PA
Education
University of Connecticut
Bachelor of Science, Civil and Environmental Engineering, 2007
The Pennsylvania State University
Master of Science, Architectural Engineering, 2009