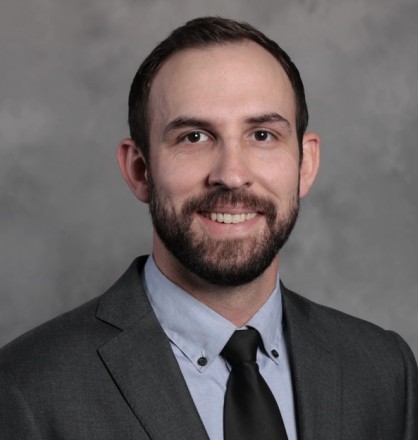 Experience
Robert Frazier works on an array of projects involving evaluation and repair of existing structures, as well as troubleshooting material or component performance problems. This work includes condition assessments, field investigations using destructive and nondestructive testing, and developing repair and maintenance recommendations. Mr. Frazier has worked on concrete, steel, and timber structures.
Prior to joining WJE, Mr. Frazier was a senior project engineer with B+T Group of Tulsa, Oklahoma, where he analyzed and designed modifications for existing telecommunications structures. Additionally, he worked at Fluid Engineering Services/BarDyne of Stillwater, Oklahoma, consulting clients on performance issues in hydraulic and pneumatic systems based on laboratory/on-site testing and software simulations.
As a graduate student at Oklahoma State University, Mr. Frazier served as the lead research assistant in developing a new method for quantifying air systems in fresh concrete using microcomputed tomography (µCT) technology. He has coauthored several reports and papers on concrete behavior and fly ash, and has presented for the American Concrete Institute and Concrete Pavers Association of Minnesota.
REPRESENTATIVE PROJECTS
Concrete Structures
Lakewood Industrial Park - Lakewood, WA: Investigation of tilt-up wall corrosion related distresses
I-294 Mile Long Bridge - IL: Concrete performance and mix design review
United Grain Port Terminal - Vancouver, WA: Silo condition assessment
5620 Rainier Avenue - Seattle, WA: Concrete wall cracking investigation
3003 Crosby Blvd - Tumwater, WA: Post-tensioned slab cracking assessment
Orca Beverage - Mukilteo, WA: Floor slab cracking assessment
Failure/Damage Investigations
Bettencourt Dairy - Wendell, ID: Condition assessment and repair of steel framing exposed to fire
1750 Occidental - Seattle, WA: Condition assessment of fractured heavy timber roof trusses
Slabtown North - Portland, OR: Investigation of window performance issues
Greenwood Acres - Vancouver, WA: Review of residential timber water infiltration and associated damage
Structural Evaluation
DOT Box Culverts - OR: Destructive and nondestructive testing of concrete culverts leading to load rating analysis
Telecommunications Structures: More than one thousand modification designs for steel self-support, guyed, and monopole structures*
Instrumentation
Sea-Tac Pedestrian Bridge - SeaTac, WA: Strain gauge installation for monitoring relocation of structure
*Indicates with previous firm
Professional Affiliations
American Concrete Institute (ACI)
International Concrete Repair Institute (ICRI)
Structural Engineers Association of Washington (SEAW)
Telecommunications Industry Association (TIA)
Registrations
Civil Engineer in OR
Education
Oklahoma State University
Bachelor of Science, Civil Engineering, 2008
Master of Science, Structural Engineering, 2011