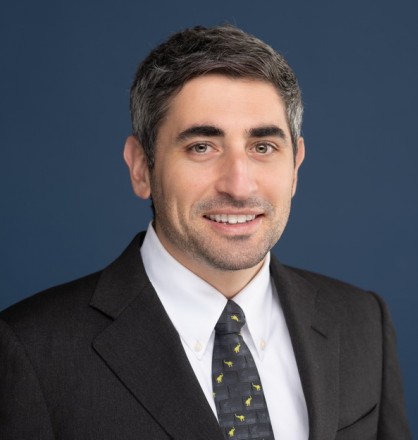 Experience
Matthew DeSimone has a broad range of experience in structural system design, repair design, structural evaluation, and field investigation. He has experience with commercial, residential, office buildings, stadiums, parking garages, and tunnels.
Prior to joining WJE in 2013, Mr. DeSimone was a senior engineer at Thornton Tomasetti, where he designed structural systems for several tall buildings and long-span structures around the world, constructed of steel, reinforced concrete, and masonry. During this time, he gained proficiency in analytical modeling, lateral force-resisting system design, steel connection detailing, and construction support services.
While a graduate student at Villanova University, Mr. DeSimone worked as a research assistant in the Structural Engineering Research Laboratory, where he conducted research on the flexural behavior of continuous GFRP-reinforced concrete beams.
REPRESENTATIVE PROJECTS
Structural Design
Baku National Stadium - Baku, Azerbaijan: Modeling and design of cast-in-place concrete bowl structure and steel braced frame lateral system for 68,000-seat stadium *
Epic Deep Space Auditorium - Verona, WI: Construction sequencing analysis and jacking analysis for 4,500-ton roof lift during construction of underground auditorium *
Kamal Mixed-Use Development - Doha, Qatar: Modeling and design of seven-story flat-slab basement and seventy-nine-story steel and concrete mixed-use tower *
Five Crescent Drive - Philadelphia, PA: Modeling and design of steel braced frame lateral system design and floor system *
Rogers Place - Edmonton, Alberta: Modeling and design of exterior wall trusses and roof trusses for NHL arena's Winter Garden *
Panasonic U.S. Headquarters - Newark, NJ: Modeling and design of floor system *
Government Agency Tenant Space - New York, NY: Design of nine-story, 276,000 square-foot tenant space, including office, training, fitness, and file storage space for tenant
2 Park Avenue - New York, NY: Feasibility study for removal of office floors and design of elevator extension and roof bulkhead
1250 Broadway - New York, NY: Modeling and design of steel dunnage support for 100,000-pound cooling tower
Repair and Rehabilitation
Baruch College Canopy - New York, NY: Repair design to mitigate deflections of composite sandwich panel canopy
Taino Towers - New York, NY: Repair design of wind connections to precast panel facade
New York Life Insurance Building - New York, NY: Repair design for limestone facade rosette anchorage and design of roof maintenance outrigger system
Failure/Damage Investigations
Horse Ridge Cellars - Stafford Springs, CT: Punching shear failure of concrete lid of below-grade wine cellar
1 Harmon Plaza Parking Garage - Secaucus, NJ: Partial collapse of steel-framed parking deck
Huntingdon Place Condominiums - Huntingdon Valley, PA: Shear cracking of post-tensioned beams in podium structure
Structural Analysis
Coindre Hall Boathouse - Huntington, NY: Inspection and analysis of steel roof trusses, wood scissor trusses, terra cotta wall system, and concrete foundation walls
New York Life Insurance Company Data Center - Clinton, NJ: Inspection and analysis of reinforced concrete columns and assessment of building seismic performance
Monmouth Mall Culvert - Eatontown, NJ: Condition assessment of pipe culvert under mall parking lot
* Indicates with previous firms
Professional Affiliations
American Institute of Steel Construction (AISC)
American Society of Civil Engineers (ASCE)
Delaware Valley Association of Structural Engineers (DVASE)
Registrations
ICC Certified Structural Steel and Bolting Special Inspector
Professional Engineer in NY and PA
Education
Villanova University
Bachelor of Science, Civil Engineering, 2008
Master of Science, Civil Engineering, 2009