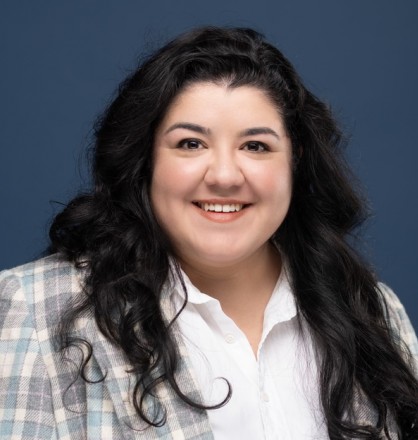 Experience
Lauren Aguilar specializes in architectural investigation and design of a wide variety of exterior building enclosure systems and materials, from historic masonry to contemporary glazing systems. Since joining WJE, she has been involved in an assortment of project types to broaden her experience and skillset, including historic preservation, repair and rehabilitation design, facade condition assessments and investigations, and roofing and waterproofing consulting for new, existing, and historically significant structures.
Ms. Aguilar is also helping to advance WJE's capabilities related to state-of-the-art technology, specifically the use of digital photogrammetry in the documentation of existing structures and drawing production. She is proficient in a wide palette of industry platforms, including BIM, point cloud models, drone photography, CAD/CAM design and fabrication, basic programming, and rendering.
Prior to working at WJE, Ms. Aguilar worked for a number of architectural design and preservation design firms. She also served as an architectural consultant on several archeological digs and as a research technician in a cross-disciplinary biomedical research lab at the University of Pennsylvania.
REPRESENTATIVE PROJECTS
Historic Preservation
Walnut Park Plaza - Philadelphia, PA: Inspection and restoration of the National Register-listed brick and cast stone facade
Hotel Vine - Philadelphia, PA: Condition assessment and repair documentation of the masonry facade at the National Register-listed former family court building
Hispanic Society Museum and Library - New York City, NY: Renovation architectural design of terra cotta building interior*
Joseph F. Weis, Jr. U.S. Courthouse - Pittsburgh, PA: Adaptive reuse architectural design of post office space at National Register-listed courthouse*
Thorsen House - Berkeley, CA: Restoration design of clinker brick and redwood site walls at National Register-listed arts and crafts bungalow *
Repair and Rehabilitation
Penn State at the Navy Yard - Philadelphia, PA: Condition assessment, repair design, and construction observation for existing masonry facade as well as roof repair scope for thermoplastic polyolefin roofs, including localized replacement of deteriorated structural insulated panels
Tech Freire Charter School - Philadelphia, PA: Repair design and construction observation for existing masonry facade
Facade Assessment
Comcast Center - Philadelphia, PA: Facade assessment in compliance with the City of Philadelphia facade ordinance
Tuscany Lombardy - Baltimore, MD: Condition assessment of masonry facade
Hennessy Hall - Madison, NJ: Condition assessment and documentation of masonry facade and site elements *
Windows/Curtain Walls/Skylights
Polyisobutylene (PIB) Migration Investigation - Various Locations, U.S.: Inspection of insulating glass units with suspected PIB migration
Hurricane Damage Investigation - Various Locations, FL: Inspection of suspected hurricane damage at windows and sliding glass doors
Roofing and Waterproofing
Ardmore Presbyterian Church - Ardmore, PA: Condition assessment for seventy- and one hundred-year-old slate roofs, including recommendations for repairs to address numerous active leaks
Pier 3 Atrium Waterproofing and Structural Rehabilitation - Philadelphia, PA: Replacement of 14,000-square-foot liquid-applied waterproofing system below a concrete topping slab
* Indicates with previous firms
Professional Affiliations
American Institute of Architects (AIA)
Association of Preservation Technology International (APT)
National Council of Architectural Registration Boards (NCARB)
Registrations
FAA Part 107 Certified Remote Pilot
Education
University of California, Berkeley
Bachelor of Arts, Architecture 2015
Bachelor of Arts, American Studies, 2015
University of Pennsylvania
Master of Architecture, 2019
Master of Science, Historic Preservation, 2019