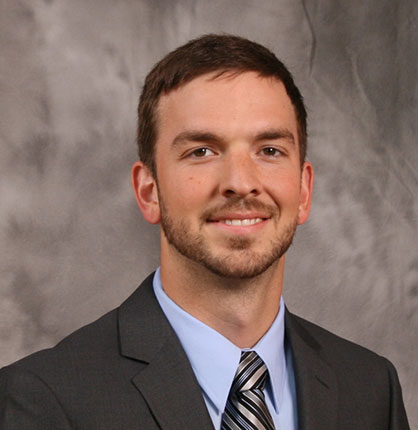 Experience
Kenrick Hartman specializes in the evaluation and repair of building envelope systems. He has experience with a variety of materials including terra cotta, brick, concrete, steel, glass, and various roofing and waterproofing products. Mr. Hartman performs field testing, moisture infiltration investigations, facade evaluations, and repair design for modern and historic structures.
Mr. Hartman has managed projects related to the investigation of roofing, waterproofing, and facade systems as well as construction period related services for multimillion dollar repair and renovation projects. He has authored many papers on topics related to his areas of practice and has been featured as a speaker at several industry leading events.
During his time at The Pennsylvania State University, Mr. Hartman was awarded the J. Borda Fellowship, the CER Fellowship, and research and teaching assistantships. While there, he developed innovative testing protocols and evaluated multiple glass storefront and curtain wall systems and their framing-to-structure connections for life-safety and serviceability limit states. His work has been featured in many publications, including conference proceedings and industry and government -sponsored reports.
REPRESENTATIVE PROJECTS
Roofing and Waterproofing
Columbia University Manhattanville Development - New York, NY: Roofing and waterproofing consulting and construction period services
National September 11 Memorial and Museum - New York, NY: Construction period services and supplemental design for plaza, pools, and slurry wall waterproofing
Spring Creek Towers - Brooklyn, NY: Assessment and repair of roofs for forty-six high-rise residential towers
World Trade Center PATH Station - New York, NY: Observation of waterproofing installation and supplemental design services
One Lafayette Place - Greenwich, CT: Plaza waterproofing and concrete repair design for existing plaza and parking garage
New York Life - Westchester, NY: Evaluation and repair design of existing plaza system
SUNY Downstate Hospital - Brooklyn, NY: Condition assessment of multiple roofs, and development of roof repairs and maintenance protocols
1010 Fifth Avenue - New York, NY: Assessment of existing roof assembly and repair design
Taino Towers - New York, NY: Design of new roofing systems for four high-rise residential towers
Facade Assessment
745 Fifth Avenue - New York, NY: Evaluation of masonry facade and repair development
One Lafayette Place - Greenwich, CT: Evaluation of existing masonry facade and repair development
New York City Department of Education - Multiple Locations: Facade assessment and repair design for masonry, metal clad, and curtain wall facade systems
345 East Ninety-Third Street - New York, NY: Diagnosis of water infiltration on high-rise residential structure
170 East End Avenue - New York, NY: Testing of plaza, roofing, and facade systems to identify and rectify water leaks
Failure/Damage Investigations
New York Public Library (Main Branch) - New York, NY: Investigation of plaster failure at the Rose Main Reading Room ceiling and repair development
Ortho Clinical Diagnostics - Raritan, NJ: Investigation of failed stucco facade
Carlyle Hotel - New York, NY: Investigation and restoration of damaged terra cotta cornice and brick masonry facade
300 East Eighty-Fifth Street - New York, NY: Investigation of broken window glazing
Structural Evaluation
Jacob K. Javits Convention Center - New York, NY: Installation of vibration and displacement sensors to monitor movement of roof structure
301 East 64th Street - New York, NY: Structural evaluation and design of concrete slab repairs
Professional Affiliations
Green Roofs for Healthy Cities
International Institute of Building Enclosure Consultants (IIBEC)
United States Green Building Council (USGBC)
Registrations
LEED Accredited Professional
Registered Exterior Walls Consultant
Registered Roof Consultant
Registered Waterproofing Consultant
Professional Engineer in NY
Education
The Pennsylvania State University
Bachelor of Science, Civil Engineering, 2008
Master of Science, Architectural Engineering, 2010