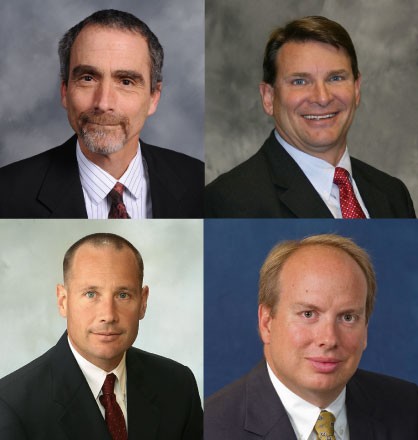 WJE is pleased to announce that Ed Gerns, Chuck Larosche, Doug Stieve, and Jim Triano have been promoted to Senior Principal.
Ed Gerns joined WJE's Chicago office in 1990 and currently serves on the company's Board of Directors. A LEED-accredited architect, his expertise includes the investigation and repair of deteriorated conditions in historic masonry buildings. He performs evaluations of brick, terra cotta, and stone masonry; assesses causes of distress, deterioration, and collapse of existing cladding systems; and has inspected numerous structures damaged by wind, ice, snow, and fire. Ed has overseen preparation of repair documents for contemporary and historic buildings. In addition, his experience includes exterior wall evaluation and restoration for buildings ranging from churches to high-rise offices. Ed has extensive experience with almost all facade systems, including masonry, concrete, and metal and glass curtain walls. He earned a bachelor of architecture degree from Ball State University and master of architecture (design option) and master of architecture (structures option) degrees from the University of Illinois at Urbana-Champaign.
Carl J. "Chuck" Larosche joined the company's Austin office in 2004. Prior to WJE, Chuck was a principal of Sparks, Larosche & Associates, and worked for the Texas Department of Transportation. With over thirty-five years of experience, Chuck is a structural engineer with expertise in the fields of preservation and restoration of existing and historic structures as well as structural evaluation, restoration, and design of civil infrastructure projects. Chuck has combined his construction background with his knowledge of material behavior in existing structures to consult in the areas of conventional reinforced concrete, precast and post-tensioned concrete, masonry, timber, and steel evaluation, including strengthening and repair of these materials. He is a Fellow of the American Concrete Institute. He earned a bachelor of science degree in civil engineering and a master of science degree in structural engineering from the University of Texas at Austin.
Doug Stieve joined WJE's Princeton office in 1991 and relocated to New York City in 2000, shortly after the office was established. As a building enclosure consultant with a specialization in roofing and waterproofing, Doug has experience with many types of materials, including low- and steep-slope roofing as well as plaza deck, vegetative roof, and subgrade waterproofing systems. He also has experience with masonry, glazed curtain walls, natural stone, and EIFS. He has managed the design and construction period services for several multimillion-dollar repair and rehabilitation projects and has provided consulting services to architects, contractors, and owners for new buildings. Doug has worked on some of the largest and most complicated waterproofing projects in the New York metropolitan area. He earned a bachelor of architecture degree in architecture from the University of Oklahoma.
Jim Triano, who currently serves as East Region director and manages WJE's New York and Princeton offices, joined the firm's Princeton office in 1991. He moved to Connecticut in 2000 and founded WJE's New Haven office. In 2005, he added management of the New York office to his responsibilities. Jim has expertise investigating and designing repairs to address problems with nearly all types of historic and contemporary building facades. Since joining WJE, Jim has investigated serviceability and durability issues with several hundred building structures. His typical projects involve facade failures, moisture infiltration, and corrosion and cracking of concrete and masonry structures. He has investigated distress in most types of cladding systems, including brick, terra cotta, and stone masonry; EIFS; stucco; composite wall panel systems; and glass/aluminum curtain walls. Jim has also been involved in the investigation of partial building collapses resulting from overloading and/or material degradation. He earned a bachelor of science degree in civil engineering and a master of science degree in structural engineering from the University of Connecticut.