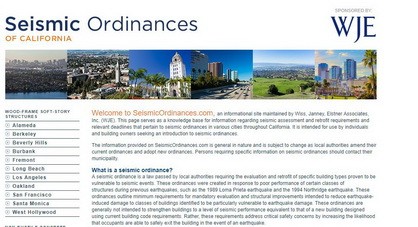 WJE is pleased to announce the launch of SeismicOrdinances.com, an informational website with upgrade requirements and relevant deadlines that pertain to seismic ordinances in various cities throughout California. SeismicOrdinances.com is designed to accommodate the needs of building owners, engineers, architects, and general contractors searching for valuable information from a reliable source.

A seismic ordinance is a law passed by local authorities requiring the assessment and retrofit of specific building types proven to be vulnerable to seismic events. These ordinances were created in response to poor performance of certain classes of structures during previous earthquakes, such as the 1989 Loma Prieta earthquake and the 1994 Northridge earthquake. These ordinances outline minimum requirements for mandatory structural improvements intended to reduce earthquake-induced damage to the building, but more importantly, these requirements address critical life safety concerns, ensuring that occupants are able to safely exit the building in the event of an earthquake.

The new generation of seismic ordinances is categorized by one of two building types: (1) Wood-Frame Soft-Story Structures and (2) Non-Ductile Concrete Structures. Most of these newer ordinances apply to structures permitted for construction before January 1, 1978, although the specific cut-off date varies by municipality. Follow the links below for more information on each building type and the associated ordinance(s).

Wood-Frame Soft-Story Structures
Alameda
Berkeley
Beverly Hills
Burbank
Fremont
Los Angeles
Oakland
San Francisco
Santa Monica
West Hollywood

Non-Ductile Concrete Structures
Beverly Hills
Burbank
Los Angeles
Santa Monica
West Hollywood

WJE can help you navigate through the complexities of these various ordinances and also assist you with seismic retrofit consultation. Persons requiring specific information on seismic ordinances should e-mail WJE directly at seismicordinances@wje.com.