NEWS | October 9, 2019
Webinar: Now Approved -- Understanding the IBC's Tall Wood Building Provisions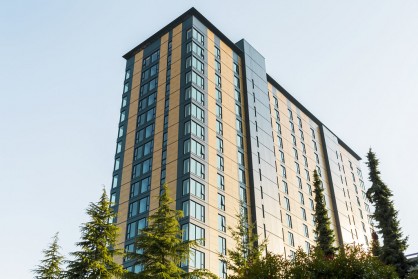 In December 2018, the International Code Council announced that fourteen code change proposals related to expanding the allowable heights and areas of mass timber buildings had been approved by its voting members. These new code provisions, which will be included as part of the 2021 International Building Code (IBC), create three new construction types and allow tall mass timber buildings up to eighteen stories.
In this complimentary, one-hour webinar, WJE fire protection engineers Carl Baldassarra, a member of the ICC Ad Hoc Committee on Tall Wood Buildings, and Tim Costello will provide an overview of the new code provisions, including allowable heights and areas, fire-resistance ratings, allowances for exposing the timber structure and/or encapsulating with noncombustible materials, options for utilizing concealed spaces, and more.
In this webinar, you will:
Learn differences between the new tall wood mass timber construction types and existing construction types
Assess which new construction types are appropriate for multifamily residential, business, and mixed-use projects of different sizes
Identify the key passive fire-resistance construction requirements and active systems that enable taller mass timber buildings to be built safely
Understand the technical bases for the code changes
There will be plenty of time for your questions during the presentation. You are also eligible for one American Institute of Architects (AIA) Learning Unit for your participation.
DETAILS
Now Approved: Understanding the IBC's Tall Wood Code Provisions
Wednesday, October 30, 2019
12:00 PM - 1:00 PM CT