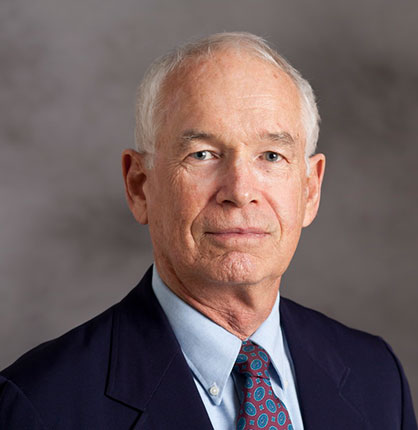 Experience
Robert Bruce has extensive experience designing seismic upgrades and conducting post-earthquake safety evaluations. He has participated extensively in FEMA-funded schematic design, training, and publication projects related to seismic adequacy of buildings.
Mr. Bruce has authored or coauthored papers and documents on seismic retrofit, computerized lateral force analysis methods, analysis of concrete shear walls, structural timber durability, coastal design, and post-earthquake safety evaluation. He has given more than three hundred post-earthquake safety evaluation presentations.
Mr. Bruce began his career in the Naval Civil Engineer Corps in Vietnam. Before joining WJE, he held various positions with Degenkolb Associates, the Forest Products Laboratory at the University of California, Berkeley, and the Applied Technology Council.
REPRESENTATIVE PROJECTS
Earthquake Damage Assessment
Building safety evaluation engineer following five major California earthquakes, the 2007 Peru earthquake, and the 2010 Haiti earthquake
FEMA Hazard Mitigation Technical Assistance Program (HMTAP): WJE Program Manager for FEMA predisaster mitigation services to local communities in ten states
FEMA National Earthquake Technical Assistance Program (NETAP) ATC-66 program: Lead instructor for post-earthquake safety evaluation training
Repair and Rehabilitation Design
Evaluation of National Flood Insurance Program Building Standards: Member of expert panel
Structural design of more than twenty-five condominium unit remodels
Seismic Retrofit Design
Alcatraz Island Building 64 - San Francisco, CA: Schematic seismic retrofit design
Wood Materials and Structures
2,200-Foot Timber-Framed Boardwalk - Emeryville, CA: Investigation of wood decay and Limnoria damage, repair design, and construction observation
54,000-Square-Foot Industrial Facility - San Leandro, CA: Evaluation and repair design of timber-roof trusses
Riggers Loft Historical Industrial Building - Richmond, CA: Wood materials evaluation of 26-000-square-foot building; rehabilitation and seismic upgrade design
FEMA Coastal Construction Manual: Contributing author on wood durability and seismic design
Welding Evaluation and Design
Rigger's Loft - Richmond, CA: Design of long-span welded steel roof trusses; in-house consultation and guide specification revision
Professional Affiliations
American Society of Civil Engineers (ASCE)
American Welding Society (AWS)
Structural Engineers Association of California (SEAOC)
Registrations
AWS Certified Welding Engineer
Civil Engineer in CA
Structural Engineer in CA
Education
Purdue University
Bachelor of Science, Electrical Engineering, 1966
University of California, Los Angeles
Master of Architecture, Architecture, 1974
Master of Engineering, Structural Engineering, 1981