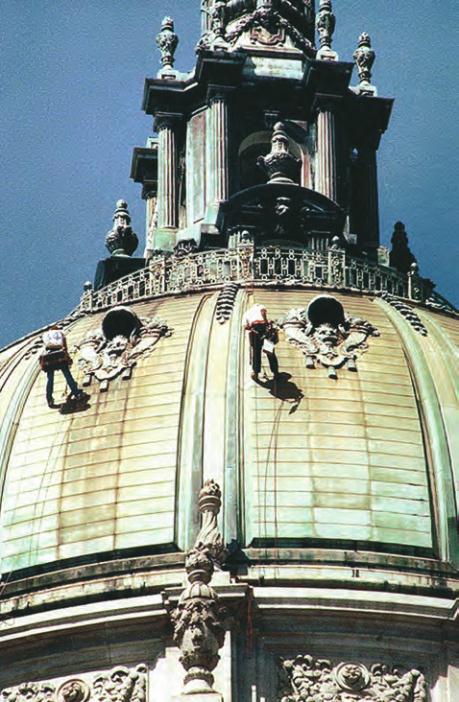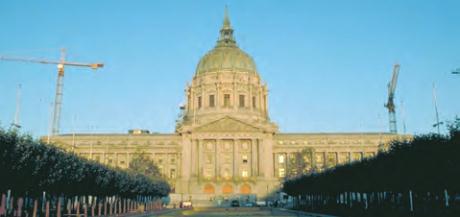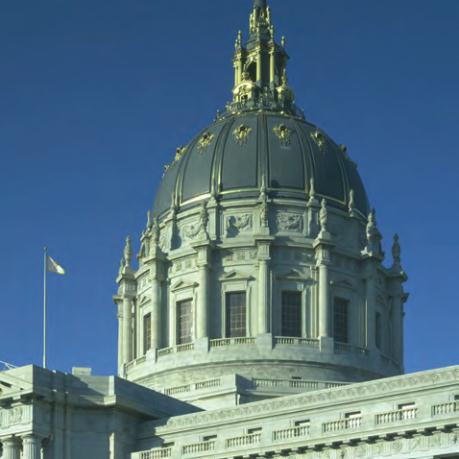 San Francisco City Hall
Fac ade and Roof As ses sment
1990
The San Francisco City Hall was built in 1915 to replace the previous city hall building, which had collapsed in the 1906 earthquake. After the building
was damaged by the Loma Prieta earthquake in 1989, the City of San Francisco sought to upgrade the building's structural system to meet current
seismic codes. WJE assessed the condition of the dome and exterior stone facades, and developed recommendations for repair and restoration.
WJE's newly created Difficult Access Team (DAT) used rappelling methods adapted from mountain climbing techniques to inspect areas of the
dome that were inaccessible by traditional access methods such as suspended or fixed scaffolding. The project launched company-wide use of
this unique inspection technique. More than two hundred projects across the country have since been performed using specialized methods
Notes of Interest
• San Francisco City Hall is a National Historic Landmark
and often referred to as "The Crown Jewel"of the finest
ensemble of neoclassical architecture in America. City Hall
was designed by Arthur Brown, Jr., who also designed the
San FranciscoWar Memorial Opera House and Veterans
Building, Temple Emanu-El, Coit Tower, and 50 United
• In 1913, San Francisco Mayor James "Sunny Jim"Rolph, Jr.,
installed a time capsule at the base of City Hall. That box
was accidentally discovered in 1997 during the City Hall
renovation and seismic retrofit. It contained old coins,
newspapers, and public documents related to the original
groundbreaking of City Hall.
• The building's dome is the fifth largest in the world, rising
fourteen inches higher than the United States Capitol.
• There is approximately $400,000 worth of gold in the