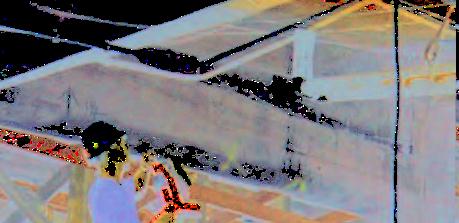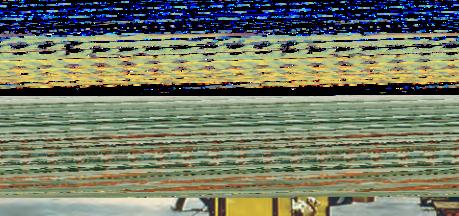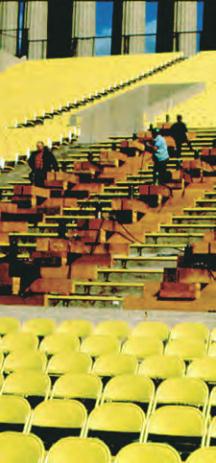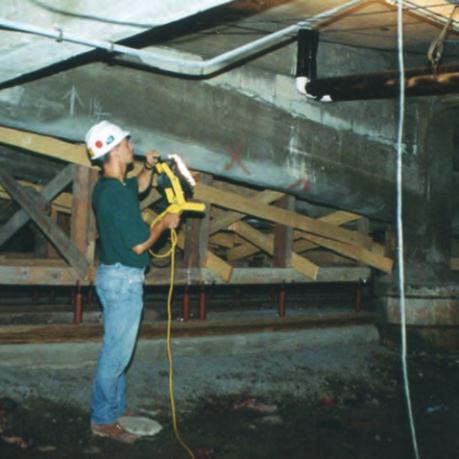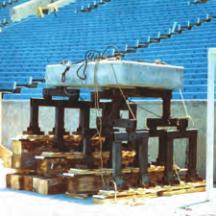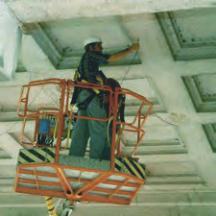 Soldier Field
Long-Term Cond i t i on As ses sment and Rehab i l i tat i on
1970
–present
When the Chicago Bears moved to Soldier Field in 1970, decades of exposure to Chicago's harsh winters had taken a toll on the circa 1925 reinforced
concrete stadium, and there were concerns as to its structural integrity. Inspections and load tests conducted by a team of WJE engineers led by Jack
Janney confirmed that many of the stands and supporting columns were structurally deficient. Shoring was installed andWJE supervised testing of
the supplemental support stands.
WJE has remained involved with the stadium ever since, providing a wide variety of inspections and repairs, including the design of a major
structural rehabilitation in 1980 and the development of corrosion mitigation schemes in 2000. Work on the stadium has involved many WJE
staff members, beginning with Jack Janney. The innovative repairs developed by WJE over the past four decades have extended the life of the
stadium's historic concrete.
Notes of Interest
• Completed in the mid-1920s, Soldier Field served as
a memorial to the American casualties of WorldWar I.
It officially opened on October 9, 1924 (the fifty-third
anniversary of the Great Chicago Fire) as Municipal Grant
Park Stadium, changing its name to Soldier Field on
Veterans Day, November 11, 1925.
• The Long Count Fight, the second heavyweight
championship bout between Jack Dempsey and Gene
Tunney, was held at Soldier Field on September 25, 1927.
More than 104,000 people were in attendance.
• Soldier Field was formerly the site of the College
All-Star Game, an exhibition between the previous year's
NFL champion and a team of collegiate all-star players
assembled prior to their reporting to the training camps
of their new professional teams. This game was eventually
discontinued due to the risk of injury to the all-stars
and the lack of competitiveness of the game, which
in its waning years was almost invariably won by the